The O'Lary Yard Gnome Goes a Gamblin'!
Hi! My name is Plume! (short for Gnome De Plume)
I went with Bob & Susan on their gambling excursion to
Bay St. Louis and Biloxi in February 2000.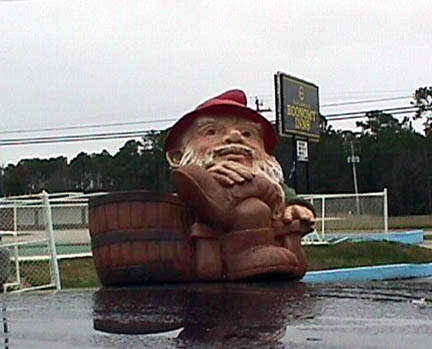 Here I am at the palatial hotel called Economy Inns in Bay St. Louis,
a mere 2 miles from the Casino Magic there.
---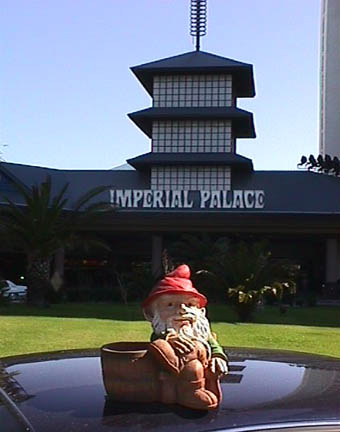 Next, I popped over to the Imperial Palace in Biloxi where we stayed the night.
(This is where Bob O hit a 1000 quarter jackpot on a slot machine!)
---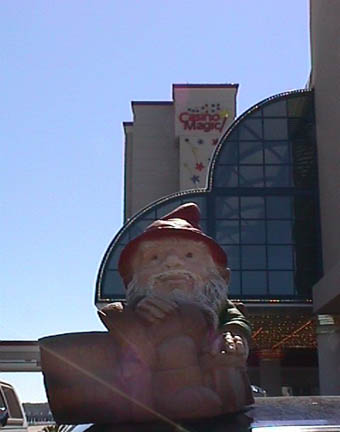 Before we left Biloxi, we dropped in to the Casino Magic for a few
spins of the Roulette wheel. (Both Susan & Bob did well).
---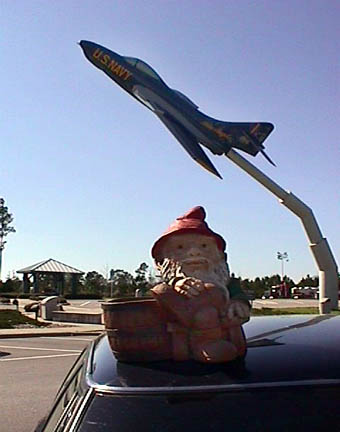 On our way home Sunday afternoon, we stopped to see
the Neat-O Blue Angels Jet at the Pensacola rest area.
From here on, it was a straight shot home.
We had a dandy (and profitable) time on this trip, and
eagerly look forward to returning with our friends!
See ya later!
Plume
---
We traveled again March 25th, (carefully, I might add)...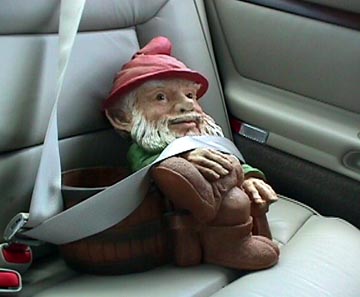 ...and this time we visited a new casino!
Treasure Bay!! It looks like a big pirate ship, and everyone who
works there, dresses like a pirate or a wench!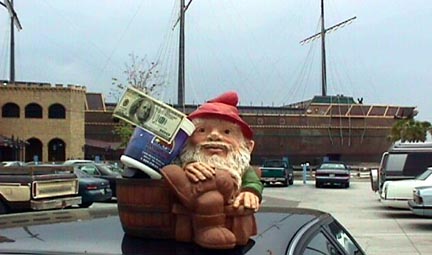 I am here outside the casino boat holding Bob's $100.00 bill. He went IN with it,
and came OUT with it! That was a victory!
More later.....
Plume
---
We decided to make an Easter trip on April 21st
I saw an Easter Bunny, and HAD to get a shot with him; after all, we are both icons of a sort!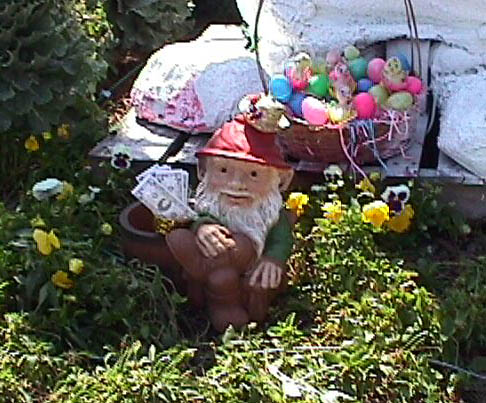 Here is a detail shot in case you can't see me very well because of those BIG ears! *g*
Please note the cute Easter hat I have!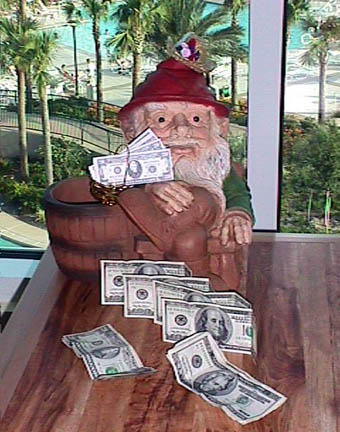 We stayed at the Grand Casino Gulfport's new "Oasis Hotel."
Here I am sitting in our room counting our money!
Behind me you can see a little of the water park that is a big attraction
of ANY "Oasis" *g* again!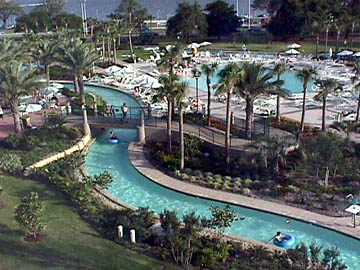 Here is a better view of the water park,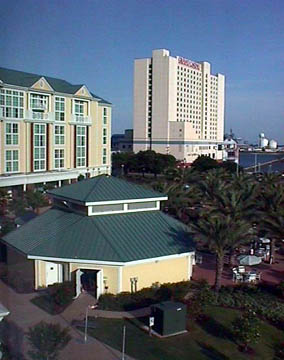 and here is a daytime/nighttime pic of the
Grand Casino out our window.

On this trip we visited several casinos, and had a delightful time.
Susan even hit an 800 nickel jackpot at the Imperial Palace in Biloxi!

Chalk up another great trip to the Plume gambling machine....
More later,
Plume
p.s. Happy Easter!
---
---
Return to Bob O's home page