. . Click on heading for "Bob O'Lary's old home page" . . . .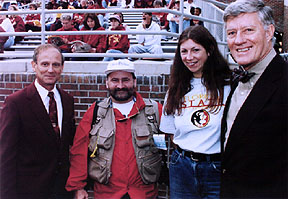 . . . . Let's make Tallahassee, Florida a WEB MECCA!.

Pictured at left: World space time endurance record holder, astronaut Norm Thaggard, world class sports photographer Bob O'Lary (me), British tourist murder victim survivor Margaret Jagger, Florida State University President Sandy D'Alemberte, my friends, one and all.

Hear Bob O' greet you With his own voice!

A Book titled "All About Bob O.". . . .

---
---

. . . . . olaryb@supernet.net . . . Updated 1/20/96